As we enter the 2020's fewer and fewer people are paying with cash and more and more expect to be able to make instant payments for goods and services, either through their smartphone or using a credit or debit card.
Driving instructors have a unique problem in that they are taking payments on a regular basis but don't have their own premises where people make payments. With the advance of mobile technology and improved 3G and 4G mobile coverage, for most instructors a hand held card reader using their mobile phone data signal is an ideal solution. With more and more banks closing their high street branches and the consequent difficulties there can be in even depositing cash in your bank, electronic payments seem to be the ideal way to go.
Sumup card reader from Rymans
There are several different card readers on the market, but all work in the same basic way. You need to buy a card reader (at a compariviely low price), set up your account with the card reader provider and then just advertise to your driving school pupils that you now take credit and debit cards.
So what's the cost of a driving school card reader?
There are two aspects of the cost
Firstly the initial cost of buying the card reader is relatively modest – at the time of writing Rymans have the Sumup card reader for £14.50 including vat. It's worth shopping around for current prices but generally the normal selling price ranges from the Rymans discount price of £14.50 up to around £60 for some of the other providers' models.
Secondly the transaction charges that normally range from around 1% -2.75% per transaction.
One of the cheapest transaction fee rates for driving instructors is Sumup. Based on their prices at the beginning of 2020 they will take 51 pence from the price of a £30 driving lesson. Please note that it is illegal to charge people extra for using a credit or debit card or to give a discount for not paying by card!
Below is our table of current charges. Providers often offer special deals on card readers and so a reader with a £29 basic price may often be foun for £19. The best price we have found is Sumup from Rymans at under £15. Whether this is a long term price or a short term promotion remains to be seen! Check out Rymans for their latest price.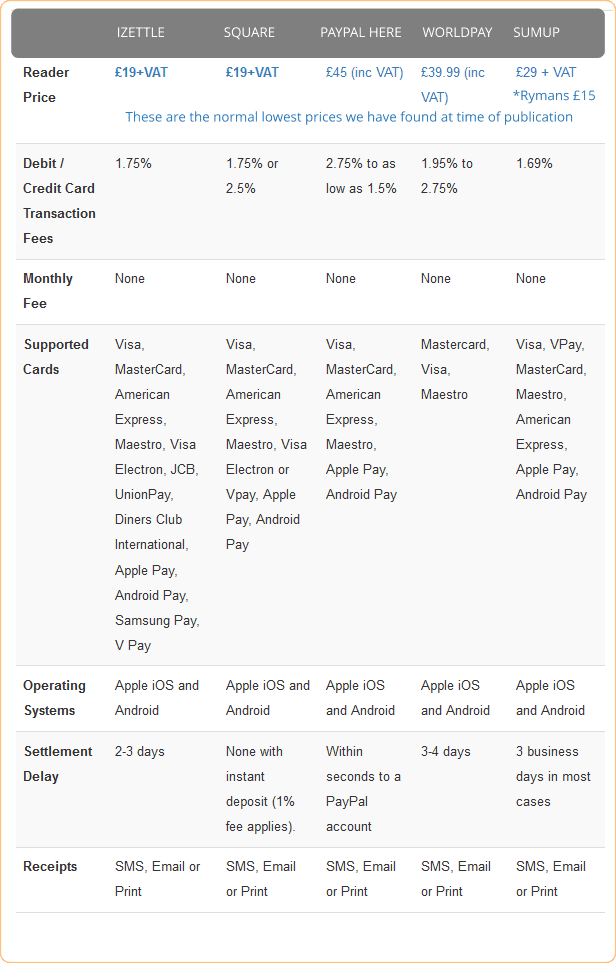 SumUp card reader – best Amazon deal