Driving Instructor Teaching Aids
Here at ADI Ninja we are aiming to be your one stop hub for your driving instructor teaching aids. It can be hard work trawling around the internet trying to find insurance companies that do driving school insurance, websites for driving school headboards, driving school supplies and resources and useful advice and information about how to best use your website or Facebook page to build your business. So – we've gathered together a whole load of information, resources and guides to help you! You can also sign up to our exclusive newsletter which will keep you up to date with all that's new in the driver training industry.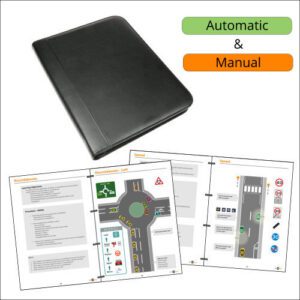 Driving Lesson Plans
Pride of place however goes to our own driving school diagrams. These driving instructor diagrams / lesson plans were developed by a professional ADI and designer and are designed to be both easy to understand for your pupil and easy to use for you. Most topics have explanation for the instructor on the left hand page and simple and effective diagrams on the right hand page. All the basic techniques and manoeuvres are included. Ideal as a driving instructor teaching aid for both PDIs and experienced ADIs. Our diagrams come in laminated hard copy versions – either zip folder or wire bound or pdf versions and they are also available as a driving lesson plan app.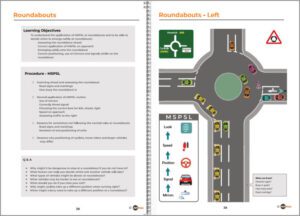 Our driving instructor teaching aids include wire bound driving lesson plans, driving lesson plans in zip folder and driving lesson plans pdf to download as well as our 500 Q&A questions and answers booklet for driving instructors and our handout templates for driving instructors to print off to give to their clients.
Free Driving School Infographics
We also offer the attached infographics for driving schools which are currently available for free download. They may be used for individual driving schools and instructors. They may be used on websites and as pupil handouts but may not be altered or sold and the copyright notice may not be removed.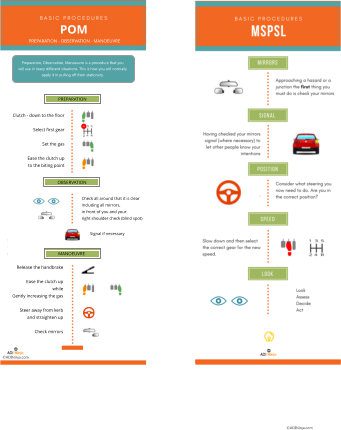 In addition to our driving instructor lesson planners we offer pupil handout sheet templates that you can copy/print and give to your clients.