Are wind deflectors a good idea? Or are they a danger?
As driving instructors return to work post Covid-19, most are wanting to heed the advice to keep windows open. However this results in excess wind at higher speeds, buffeting noise if only one window is open and rain entering the car. One possible solution to these problems is the use of wind deflectors. Although they are not so popular in nthis country, they are much more popylar overseas. So what about using them for driving school cars?
Wind Deflector Suppliers
There are two major suppliers of wind deflectors for the UK aftersales market. These are Heko and Climair. Both are similar but the Heko ones are considerably lower in price. Both look similar and are fitted in a similar way. For fixing Climair rely more on an adhesive strip while Heko use an adhesive strip and metal clips. How easy the clips are to fit will inevitably depend on the model of car. We found them easy to fit on the VW Polo car we tried them on.

Are wind deflectors easy to fit?
The Heko deflectors with their metal clips may look a little daunting. But the fact is that they are dead easy to fit. Although the instructions that came with the deflectors are pretty poor, there are plenty of YouTube videos showing just how easy they are to fit.
Are wind deflectors safe?
Here we come to the biggest drawback with the use of wind deflectors. Although, provided they are fitted correctly, you are not going to expect them to come flying off the car in strong winds, there is a big downside. That downside is a big one for driving school cars and that is that they do effectively reduce visibility in the area of the A-pillar. Different instructors may view this differently. Some may simply take the view that they just need to make sure they alert their pupils to the need to make sure that they make good observation in this blind spot, moving their head a little if necessary. Meanwhile other instructors may feel that anything that has a negative effect on visibility should be avoided. The choice is in the hands of the individual instructor.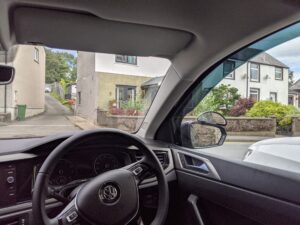 Do they work?
We found that they do a good job at both reducing excess wind in the car cabin and stopping rain getting in when it is raining lightly. It also means that the rear windows in particular can be left open by about one inch at all times without raining getting in, even in heavy rain conditions.
In practice we found that pupils were able to cope with the blind spot limitations without it being a safety issue.
Where to Buy
Both Heko and Climair have their own online stores. However best prices can usually be obtained through Ebay and Amazon. You can buy wind deflectors from Amazon here. Amazon offer a vehicle lookup service so you just need to enter your reg number here and they will select the correct model.
Our Ratings