Google My Business / Maps / Local for Driving Schools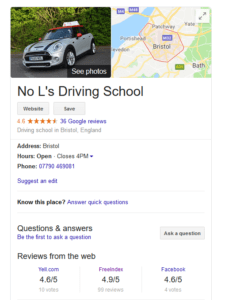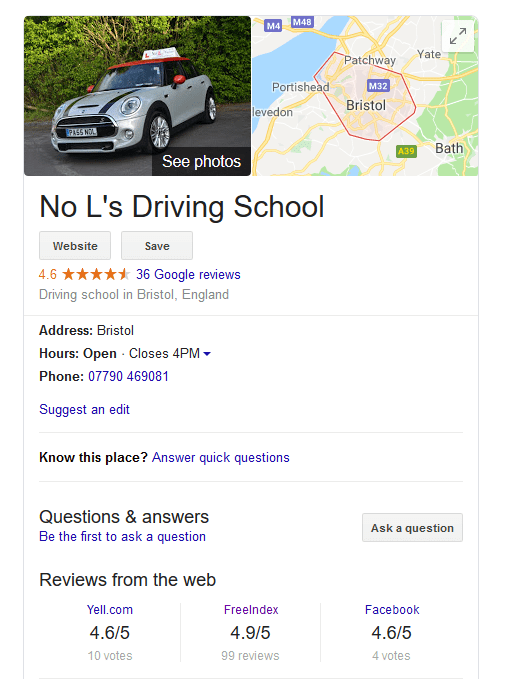 In view of how important Google is in terms of UK search, it is essential for any business to get a Google My Business listing.
Being listed here means that you can get included in the maps and local search listings when people search on Google. You can start the process here https://www.google.com/business/
Make sure you complete the set up fully. If you do not have an office where you receive customers/visitors then you should set up your listing for your geographical area, not your home address. Although you must enter your home address to set up your listing, you should opt for it not to be displayed and that instead you cover a geographical area. Periodically Google removes listings that use a home address.
1. Make sure you fully verify your listing (by text/phone or post)
2. Complete the listing as fully as possible.
3. Usually its best to be consistent with use of your driving school name – so don't call yourself X Driving School in one place and X School of Motoring somewhere else
4. Try to get some pupils to add driving lesson reviews
5. Get citations. Citations are quite simply listings on the internet that include your business name, address and phone number. They will often also include a link to your site but even this is not essential. Google will find these citations and these citations will validate your business. On the whole, the more citations the more trustworthy your business is likely to appear to Google. You can get your web designer or SEO guru to do this for you.
6. More about citations try to ALWAYS use exactly the same information in terms of business name, address and phone number in your citations. eg Don't sometimes use road and sometimes rd.
Citations can be from websites that are national (UK wide), local or industry specific. Local or industry specific citations are generally the most powerful.
Note: the way Google ranks sites is complex and they don't give away many secrets. Factors in ranking your business in the business/maps section can be different to ranking in the organic search results. Other factors such as how close the address is to the city or town centre can be relevant to ranking.
More about Google rankings – what is your true Google position?