4 ring luxury leather look 4 ring presentation binder.
Automatic & Manual combined version
2023 version with 110 pages including:
High quality driving lesson plan diagrams

Suggested lesson objectives and Q&A examples

Separate pages where appropriate for automatic and manual

Separate pages where appropriate for automatic and manual

Road signs and road markings

Show me tell me questions

Basic procedures – MSPSL, POM, LADA


Stopping distances

Dry wipe board with pen/eraser

Inner pages are all laminated for long life with 170gsm paper. This is lamination in the printing process rather than what you would get using a hand laminator so there is no unsightly clear border around the pages.
You can also draw on the pages with a dry wipe pen as supplied. (It is recommended you clean it off straight away to ensure the diagrams are not spoiled)
The layout of the folder is such that on the left side of the two page spread are driving instructor aids such as lesson objectives and suggested Q&A while on the right hand side are bright, clear easy to understand diagrams for the pupil with some question prompts.
The format is designed to be easy to use for both driving instructor and client. The diagrams do not cover every eventuality and every scenario but you can use them to illustrate different scenarios eg you could ask "if the vehicle was closer to the junction how would that affect whether you think it's safe to go?" In order to promote client-centred learning, the majority of diagrams also include some key questions that the driver should be asking and which you as a driving instructor can use to prompt your trainee. For instance instead of an instruction – "Make sure you look both ways" it asks "Where should I be looking?". This makes these driving lesson plans ideal for use by experienced instructors as well as if you are a PDI as ADI part 3 lesson plans. The Q&A section includes questions for discussion with the pupil to help them to think about, not only what they should do, but why. No answers are provided as often there is not one correct answer – the questions are there more to promote thinking on driving lessons than to test knowledge.
For a full list of topics covered please see the image titled "Index".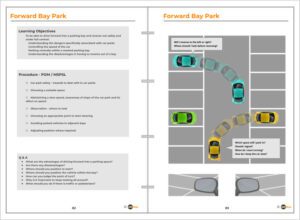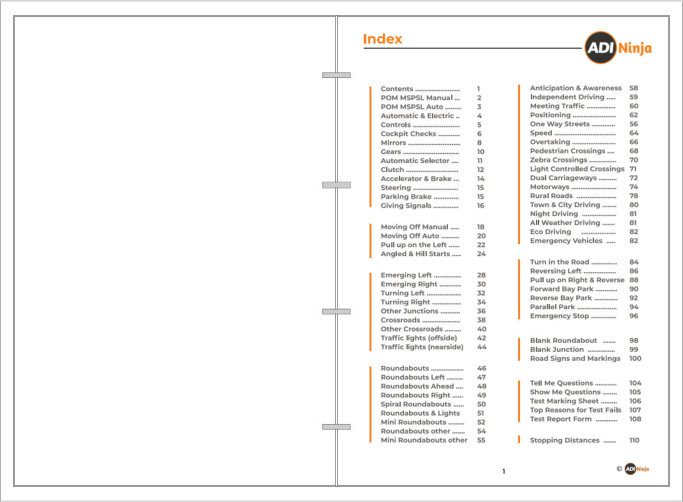 "Just a quick message to say that my order arrived safely this afternoon and that I'm extremely happy with the entire transaction.
Ordering it was easy, packaging and delivery were spot on, and the item is absolutely brilliant, and I used it tonight during a lesson with my son, who loves it as well.
I will be recommending your site and products at every opportunity, and I will be ordering from you again in the future."   Dave French ADI
—–
Note: All driving lesson diagram products are subject to variation and update.
---