Top Boxes Headboards for Driving Schools
Many instructors ask – is it worth having a driving school roof sign, headboard or top box? There are a number of pros and cons , but really, for most instructors the pros far outweigh the cons:
Pros: Looks more professional, brand recognition, people can instantly get your phone number
Cons: Lower mpg, possibility of vandalism, can't drive like an idiot between lessons(!), cost
The effect on mpg and the initial cost will be outweighed if just one person per year is influenced to sign up with your driving school through seeing your driving school headboard.







There are two main types of headboard – the traditional and the aero.
This traditional headboard from Plastic Mouldings Northern is moulded from top quality 4mm Acrylic Capped ABS and has 5 strong UK made magnets.
The roof sign is UV resistant and will not fade or go yellow with sunlight, keeping the crisp white look for at least three years
This sign is moulded with the 'L' shape with red L's included. Click image for price and more details.
Click image for price and more details.
The advantage of the aero style driving school headboards is that they reduce fuel consumption compared to the traditional headboards and that they lok more modern. The disadvantage is that there is more room on the old style top boxes for your driving school signage. Click image for price and more details.

Click image for price and more details.
You can buy a plain aero roofbox and get professional vinyl graphics to fit from your local graphics/signage company like the one below.
If you are looking for driving lesson diagrams click here.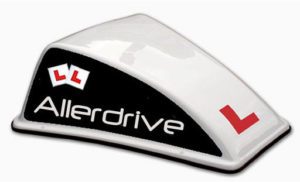 Here is a list of suppliers of driving school headboards:
| | | |
| --- | --- | --- |
| ADINDI | | 01832 733316 |
| Desktop Driving | | 01903 882 299 |
| Driving School Aids | | 01132 818 199 |
| Driving School Supplies | | 0121 328 6226 |
| Grade Six Supplies | | 01353 749 807 |
| Ideas 4 ADIs | | 08432 899 118 |
| Lettercraft Topsigns | | 0191 512 0096 |
| Plastic Mouldings Northern | | 01388 777 700 |
| RCM Supplies | | 01202 649 600 |
| Top Notch Signs | | 023 9252 0333 |
| Amazon | | |
FAQ
Which are better aero or traditional headboards?
Both have their place – however aero-style headboards are becoming more popular
Which is cheapest aero or traditional top boxes?
Generally speaking you will find that traditional style style top boxes are cheaper
Do driving school have to use headboards?
No – as long as a driving school car has legal L Plates that is sufficient
Are there advantages to having a headboard rather than just using L plates?
Advantages are: better marketing tool, looks more professional
Are there disadvantages to having a headboard?
Slightly increased fuel consumption, lack of anonymity when not on lessons.